London, Ontario is a beautiful city no doubt! We have a lot of customers who live there and use our services to either drive them around London for a tour of the city and some sightseeing. Some of them need to get to or from Toronto Pearson International Airport, as Toronto Airport Limousine offers a flat fee airport taxi service. Others are interested in exploring the city's trendy spots, tasting some local restaurants, having a drink at a lively bar, going to a sports game or watching an art performance.
About London
London, Ontario is the largest city in southwestern Ontario, and the 10th largest in Canada. London is at the confluence of the Thames River, approximately 200 kilometres (120 mi) from both Toronto, Ontario and Detroit, Michigan; and about 230 kilometres (140 mi) from Buffalo, New York.  London is a regional centre of health care and education, being home to the University of Western Ontario, Fanshawe College, and several hospitals. The city hosts a number of musical and artistic exhibits and festivals, which contribute to its tourism industry, but its economic activity is centred on education, medical research, insurance, and information technology. The city has it's bus transit system called London Transit. It also has Via Rail, Greyhound Bus  Lines and London International Airport.
Top Things To Do & See
It's impossible to list absolutely everything here but here is some top spots to get you thinking..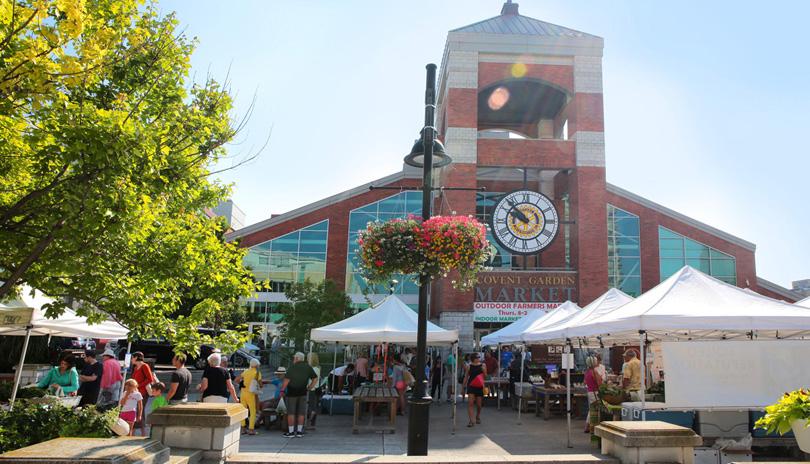 Budweiser Gardens – located downtown, opened in October of 2002 with a seating capacity of 9,090 for hockey and ice events and over 10, 000 for concerts, family ​shows, and other events.
Victoria Park – an 18-acre (7.3 ha) park located in downtown. It is one of the major centres of community events in London.  Many annual events are held in Victoria Park. These include Sunfest, the Home County Folk Festival, The London Rib-Fest, The International Food Festival, LOLA and Fiesta del Sol. The park also has an ice skating rink in the winter.
Grand Theatre – is a professional theatre located at 471 Richmond Street. Its main auditorium has a seating capacity of 839 with a regular season running from September to May. In addition, it has a secondary venue called The McManus Theatre, located on the lower floor with a seating capacity of 150.
Museum London – is an art and history museum, that has for more than 70 years preserved, interpreted and shared the story of London and Londoners. The museum is located near the forks of the Thames River in a building designed by Raymond Moriyama, architect of the Bata Shoe Museum in Toronto and the National Museum of Saudi Arabia in Riyadh.
Fanshawe Pioneer Village – is an early example of a "Pioneer Village".  Owned and operated by the not-for-profit charity known as the London and Middlesex Heritage Museum and tells the story of rural communities from 1820 to 1920.
Middlesex County Court House – one of the most iconic buildings in London. The three-storey parged brick building has castle-like features and Gothic details. It was designed by architect John Ewart and was constructed in 1827-29. Perfect for selfies!
Covent Garden Market – discover what's fresh at the market!  Formally established in 1845, Covent Garden Market is one of London Ontario's most treasured cultural landmarks.  In years past, farmers and shoppers mingled on sawdust covered floors where everything and anything was sold:  meat, wild raspberries.
London has nine major parks and gardens throughout the city, many of which run along the Thames River and are interconnected by a series of pedestrian and bike paths, known as the Thames Valley Parkway. The city also maintains a number of conservatories for those who love nature, hiking, fresh air and exploring. Not to mention hundreds of restaurants, bars, pubs, cafes and other dinning spots spread all around the city.
Those looking for more information or a complete tourist attraction list please visit the official London Tourism website.
If you and a group of people need to get around London, then renting a Mercedes-Benz Sprinter van or an SUV would be an excellent choice!
If you have a smaller party and you're looking for something a bit different, check out our new Tesla fully electric vehicles. It's unlike anything you've been in. Super fast, high tech and very comfortable.
In conclusion, London Ontario is a big city that has a lot going on.. sports, arts, entertainment, dinning and nature exploring. There is something here for everyone. Are you planning a trip to London? Let Toronto Airport Limousine make it happen with ease. Give us a shout today and let's plan this together. We can assign a driver to you who knows the area intimately and can take you on a tour and suggest points of interest. Make some fun memories!