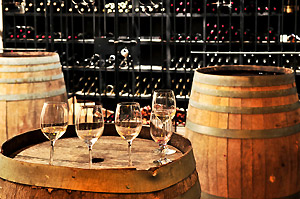 After spending a long, hot summer driving the kids back and forth to camp, trekking to the cottage and completing projects around the house, now is a great time to plan a getaway for just you and your partner.  What better way to unwind and relax than with a Niagara wine tour? And, with Niagara Wine Tours Limousine Services, operated by Toronto Airport Limo, your getaway is sure to be relaxing and worry-free.
Niagara Wine Tours Limousine Services provide first class service to various Ontario vineyards located within the Niagara Escarpment including Winona, Grimsby, Beamsville, Vineland, Jordan, Campden, St.Catharines and Niagara-on-the-Lake. We encourage you to kick back and relax and enjoy your wine tastings while we do the driving for you.  Tell us the wineries you want to visit or leave it to us to plan your winery stops. We offer a fleet of impeccable vehicles including luxury sedans, Lincoln Towncars, Cadillac Escalades and up to 14 passenger SUV Stretch Limos.  So no matter whether it's just the two of you or a large party of friends, Niagara Wine Tours Limousine Services can accommodate your needs with very competitive rates.
With Niagara Wine Tours Limousine Services in the driver's seat, you'll get the most out of your exciting adventure through Ontario's Niagara Region Wine Route. The 26 wineries of Niagara-on-the-Lake for example, always have lots of events going on and they encourage you to leisurely tour their properties and taste their wines. Niagara-on-the-Lake's Taste of the Season event is offered weekends in November and it promises to be a wine and food extravaganza! It's a popular touring and tasting program the showcases VQA wines and the fabulous cuisine of Niagara-on-the-Lake.  In December, the wineries of Niagara-on-the-Lake present the Stocking Days of Christmas with a range of festive wine offers, tastings and open house events. Be sure to checkout their website, www.wineriesofniagaraonthelake.com, for event listings and information on the wineries.
Whatever you choose to do during your wine tour escape, you'll be sure to fall in love with stunning landscapes, picturesque towns and wonderful wineries. Moreover, Niagara Wine Tours Limousine Services has you covered no matter your destination in and around the Niagara Escarpment and Niagara-on-the-Lake.  Call us today to book your Niagara Wine Tours Limo, toll-free at 1-888-905-4667 or locally at 416-820-8300.